---
AVICIF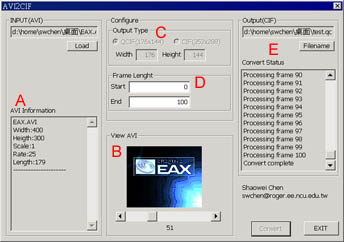 This program can transfer AVI files to YUV files(qcif or cif).
We test it successfully when using a normal AVI files.
If you have a avi file which use other codec, it may not work.
The program is the small part in my project.So it still have a lot of bugs.
It may use MMX technology.I forgot it ....
Part A: You can see some information about the avi file.
Part B: Previse window.
Part C: Choose QCIF or CIF.
Part D: Start frame number and End frame number.
Part E: Transfer log window.
DOWNLOAD (Source and Binary)
- avicif.src.zip
MultiView YUV Player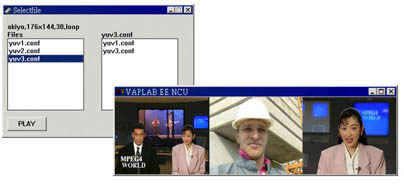 - Support QCIF CIF
- MultiView up to 4
- Resize two times
- Pause function
- Friendly interface
- Support different frame rate in same window
- Lanuch in PowerPoint

DOWNLOAD
- multiplayer.zip
VirtualEye(under construction)
- Detect motion in a imgae grabbed from CCD
- Email JPG image to user's mailbox when someting happened in the images
- Remote see live images by Web
CutSymbol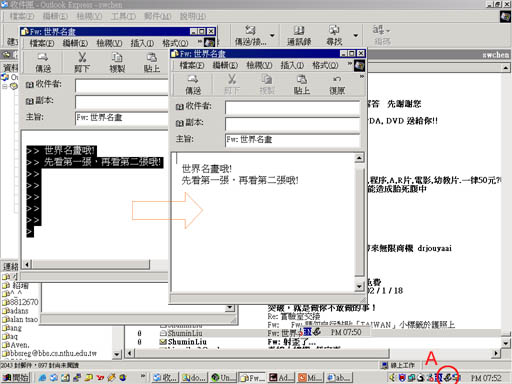 - To eliminate a lots ">" in front of sentence in the email or any text.
- Run it and the software will put a icon at right-bottom of screen [A].
- Copy the text that you want to be eliminate ">".
- Double click of lef mouse button to execute it.
- Paste where you want to put it.
- You can use right button on the icon in order to configure something.(Try it by yourself.)
- The software only process purely text,so the some will be strange after processing.
- 執行後它會放個圖示在工作列的 status bar[A]
- 開Outlook , 選則一封信作轉寄
- 信件中,[編輯]->[全選],然後[編輯]->[複製]
- 至圖示上方按右鍵二次
- 回至原來信件, 編輯->貼上
- 可在圖示上按右鍵,有設定一些東西
- 只要任何文字複製,皆可使用
- 本程式只針對純文字,若用在其它格式結果會有點有奇怪
DOWNLOAD - Current version 1.4
- cutsymbol.exe for Win98/me (maybe be used in WinNT/2000/XP)
- cutsymbol_nt.exe for WinNT/2000/XP(UNICODE)